I have no opinion in terms of a woman's right to work, as I hold to my belief that all individuals are sovereign and have the freedom to choose what they want to do with their time.  A recent article at the Daily Mail UK confirms one aspect of relationship economics that I've always held a strong opinion of: two parents in the workplace may be more costly than just one.
As women entered the workforce en masse in the 1970s, some interesting effects started to appear due to the cause of the so-called woman's lib movement: an destruction of average wages.
Again, I'm not saying that women in the workforce is a bad thing, but there's a big cost in relationship economics that needs to be delved into deeper.  It fits into a large part of my conversations with single women who are unhappy with their lives, although most argue against the idea that it's their jobs that are costing them their happiness.
When a household has one parent working and one staying at home (note that I didn't mention the sex of each parent here, as this matters to straight couples and gay couples, too), you have one factor of the supply-and-demand curve for labor satisfied and equalized.  Because there are fewer people available to work, wages tend to be higher by employers to attract labor instead of losing the best to the competition.
In the 1950s, about 30% of women were working, compared to 75% in the 1990s.  In a society with an equal amount of men and women, the 250% increase of women in the workforce in just 40 years equals an overall rise of 35% of available laborers for employers to hire.  More available laborers means a higher supply of workers for an equal demand from employers means that wages do get pushed down as more people are available to be hired.  Wages don't necessarily fall 35% to equalize the supply and demand curves — part of the fall in wages is offset by a rise in unemployment.
The salary and unemployment pressures from a rise in the workforce are basically a given for anyone familiar or just interested in supply-and-demand curves and economics, but the secondary pressures that come from this rise lead to, in my opinion, many of the primary causes of depression that I see in so many of my peers in my generation and younger.
What does it take to enter the (corporate) workforce today?  Most would say a college degree, at the minimum.  If you suddenly have a 35% increase in people vying for the same jobs, you also will have a similar number of people who enter the higher educational market — driving up education costs.  As education costs rise, you also have more people acquiring loans for that education — driving up long term debt for each individual who acquired a loan to get that education in hopes of getting a job.  This is shown in recent debt reports that show that the overall total of college debt in the United States surpasses the total amount of credit card debt!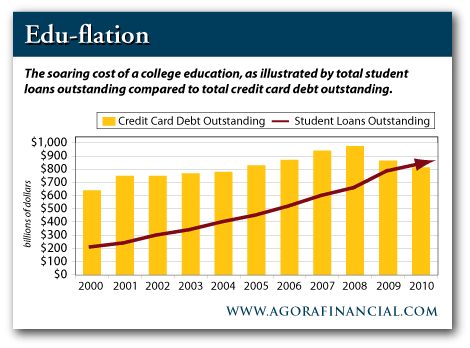 That educational debt, in the United States, is a permanent debt until paid off.  Bankruptcy laws have made it near impossible to make the debt vanish in bankruptcy: if you have a college loan, it's with you until you pay it off.  I know quite a few people in my generation who are burdened with so much debt that they're unable to make significant life-changing decisions, such as marrying, having children and staying at home.  To pay that debt, the educated individual is required to have a job, and by seeking that job they're putting the original pressure on wages to be lower.
So now you have two individuals who are vying for jobs in a tight labor market, both possibly with educational debt that they must pay off or they'll never qualify for a mortgage, a credit card, and in some places, a job (as derogatory credit checks are legal avenues for denying employment).  Is it any wonder that two educated and job-focused married individuals are relying on the broken public school system not just to educate their children, but also to raise them and guide them?
It's a wild circle of frustration to me, because once a child is in that public school system, they're driven to one major goal from a young age: do well in school so that you can…get into college.  I recall my own high school guidance counselor asking me what I wanted to do after school.  I wanted to be an entrepreneur, but she was adamant that I'd need a college education (along with the 4-5 lost years and a bundle of debt) in order to succeed in business.
Then there are tertiary losses that accumulate subconsciously that lead to even more depression for those of my generation and younger: women going to college to get a job, competing with others who have done the same, making many of them want to have higher degrees to be more competitive.  In terms of evolutionary psychology,  few women seem to be happy with men with lower degrees than them, or who earn less than them, so you end up with a dating market lockup of men who aren't good enough for the women they're available to date.
It's a nightmare, and one that I'm challenged to look at more and more every day as I talk to men and women in their 20s and 30s, who are uncertain of what to do next.  Most of them have a huge burden of college debt (which they're happy to defer, meaning they're putting off their day of reckoning), are all competing for jobs in a market that is pretty stagnant, delaying long term committed relationships due to these challenges, and ending up unhappy and unable to make any changes because the chicken and the egg both cost to much to eat.
And I didn't even get to the point of the linked article posted at the top: the costs of trying to raise a family when both parents are working.  Day care, nursery, nannies and extracurricular costs pile up, making it harder and harder on dual income households to try to pay the bills.  With two incomes, the household income is larger, meaning the entire family is in a higher tax bracket, too, with no option to defray some of those additional costs in any way.
So what's the solution?  I don't really see one: the cost of living is high, many dual income households still have that mortgage to pay for 30 years and the burden of college debt to pay possibly just as long; they don't have time to properly and directly raise their children, so they settle those kids into public educations where the primary goal from kindergarten is "How can I get into an Ivy League college and who will pay for it?" — it's a trap.
The realistic solution is one that I can't see happening: leave the urban communities and find a suburban or even ex-urban tiny town lifestyle.  Become entrepreneurs with a service to sell that people need no matter where you live (fix HVAC systems or be a car mechanic, clean homes, roof repair, etc), downsize your expenditures so that you can be debt-free before you bring children into the world, stick one parent at home to raise those children and direct them to being independent and sovereign individuals who don't need to take on a bundle of debt to be happy.
Related posts to peruse: